First off, What is Retail Arbitrage on Amazon?
The simplest way put, retail arbitrage is sourcing products at the retail level.
For example, you might buy products from a local store near your home and then list that item on Amazon.
Does Retail Arbitrage Make you any Money?
Yes, when done correctly.
When I buy something online, I'm paying for a convenience. I can get it from Amazon in a couple days, and it saves me the trip to the store. I know that whatever it is I'm buying, I can go right down to Target, Staples, you name it, and pick it up for a littler cheaper, but it takes time, gasoline, and the frustration of lines and traffic.
On the other hand, if someone has listed the item on Amazon, has shipped the item to Amazon for Fulfillment by Amazon, making it available to buyers who can't or won't be getting to the store for a while, everyone wins, even if the items is priced a little higher than if it were to have been sold in the store.
Everyone Wins, Except the Seller if…
Thing is, it's easy to find stuff locally to send in to Amazon. The tricky part is making a profit doing so.
It's not too hard if you watch your Amazon fees, and know how to find great deals.
That's where Cliff and Jessica come in.
Finding Existing Products to Sell on Amazon
Cliff and Jessica at The Selling Family masterfully teach the secrets of selling on Amazon. I personally recommend their brand new Amazon Boot Camp Course version 3.0.
Don't Miss out on:
Mastering Fulfillment by Amazon
Step-by-Step Tutorials & Recordings
Finding Products Locally and how to list them on Amazon
Succeeding without having to import or buy from wholesalers
Creating a profitable business where Amazon ships products for you.
Private Support Group with Lifetime Access
Take an investment in your business. Check out the Amazon Boot Camp.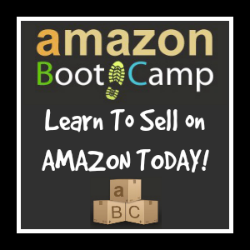 Their course is for those who don't want to source from China or start manufacturing their own products.
With the right strategies, they teach, you can be up and running quick without the headache of having to create your own products.
With their approach, you create value by offering products that yes, can be found offline, but may not be listed on Amazon yet, or you follow their methods to find the best deals and then be able to sell at a profit and perhaps even a discount.
It's not drop shipping which doesn't provide much value. With Cliff and Jessica's techniques of selling on Amazon, you can get started quick, and provide value to shoppers nationally and even internationally.