What does it take to make a full-time income selling online?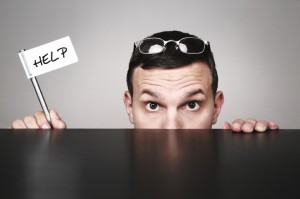 Freedom.
Freedom is what I yearned for.
Freedom from reporting every day to bosses that were a little crazy and sometimes a little out of touch.
Freedom to vacation when I wanted to vacation.
Freedom from a commute that wasted so much time out of my day and got me home much, much later than I would have liked.
Freedom from the crushing worry of knowing that we weren't earning enough money to make it.
The problem was: How in the world do I make it happen?
I was stuck, and yearned for something better…
Like a lot of folks, I went to school, got good grades, and got a job out of college working for a large company.
My wife and I purchased a home in a nice area.
Things were great…right?
Well, things were great except for one tiny little detail…I really disliked my job.
"Disliked" being a very soft way to put it.
I knew I was meant for something more and was tired of the same old paycheck every two weeks. If I produced more value, I wanted to get paid extra for it instead of the same…same…same…
I spent too much time at that company, and finally left and went into sales (a big career change), but soon found out that for a variety of reasons, the choice wasn't the best. It was out of the frying pan and into the fire.
Our income dropped like a rock, we ate into our savings until there was practically nothing left.
I needed to find something that would:
Provide well for my family
Make me happy and be fulfilling
Build equity (for each hour I invested, I'd get paid over and over again for that work)
Give me Freedom of time and greater mobility
But searching online for opportunities just brought confusion.
Who do I trust? Are these systems for real? Lots of systems looked really old and out of date using nothing but cheap tricks that probably became outdated the day they were published online.
Searching in Google for "How to make money online" and being bombarded by so many systems to make a quick buck. It was too much, and didn't feel right. The fear of finally picking something wrong only to be disappointed later was a real fighting influence.
Something needed to work well from the get go, and not take years to show any fruits, but at the same time, it needed to be something sustainable over the long haul that could provide well.
The choices, confusion and anxiety were hard. It was like wandering in a wasteland, but knowing that there must be something better somewhere, but where and how?
When the answer finally came, it felt right.
Providing real value to real people was something that was important to me. I also wanted the freedom of mobility, and the ability to travel and provide well for my family.
It needed to be fun and engaging, and I looked at selling real-world physical products online, not by becoming a middleman, but by offering value throughout the process and making the lives of my customers better.
What I discovered was that I could sell physical products online and make a great living without being tied to the post office or shipping product one-by-one, dealing with returns, and all that mess. I found a fulfillment house that would ship the products for me.
I'd make an investment in inventory and ship in bulk to the fulfillment house that would then take care of shipping customer orders one-by-one and take care of the returns too!
This was an opportunity that I discovered and learned through the school of "hit-my-head-against-the-side-walk-til-I-figure-it-out" type of thing. I had to learn it all, making a lot of mistakes along the way.
I started with just one product.
Just like most online businesses, it began with one product, then another, and another, and soon, my income was far beyond what I was making at my old "steady" job.
It was fun to see people's reactions in our neighborhood once I had my business going for a while…
One neighbor wondered if I had lost my job because I was home so much outside taking care of the yard, which was refreshing (to be outside that is, during the day, when the sun was shining rather than seeing the sun from a cubicle window and not getting home until after dark when I had a "day job.")
Back when I was looking for opportunities, it seemed like so many people had a system that may have worked back in the day when the Internet was first born, but were way outdated by the time I found them.
A system that would work year after year, building a real, viable business is what I needed and what I was finally able to build.
I still make my living selling real world, physical products online, and it's something that I believe that people with the right determination and a little bit of smarts can accomplish.
The 7 Pillars of Selling Online is where I share what I've learned through my journey of selling real-world products online.
There's never been a better time to get started selling products online whether on your own website or in marketplaces like Amazon.
But sometimes, the hardest part is just getting started.
There are lots of things that keep people from getting started.
Sometimes, knowing how to go about it…is all that's needed.
Lots of people have been interested in what I do. I've been asked the following questions often:
How do I come up with products to sell?
What's the best way to source product from overseas?
How do I buy something made in the USA and resell it?
Can I get good wholesale deals on products?
How do you get customers (lots of customers) interested in buying?
Won't returns and refunds be a pain? (Not if done in the right way)
How do you protect against order fraud?
What are some tips for setting up a business address and receiving packages?
Can I do the business part time at first?
What marketplace is best to sell in or do I sell on my own website or both?
What's the best way to advertise and market my products?
Where can I get a good deal on shipping supplies and labels?
How do I sell on Amazon?
How do I make my business something that can provide a full-time income?
There's been lots more questions than these, and I created the 7 Pillars to address these and more that I've come up against as I've sold every-day products online full-time for over 3 years. But the 7 Pillars training is for people that are serious about learning, and serious about doing.
The Dollars are in the Details
So many people could be great, could be awesome at what they do if they would just pay attention to a few more details that the really successful people pay attention to.
Enrollment for the entire 7 Pillars of Selling Online Membership Course is not yet open, but you can take advantage now of the free resources I've posted for you: blog posts, the podcast/radio show as well as free audio and video mini trainings.
For instant access to two trainings I've created where I discuss some of the secrets behind how I make a full-time living selling real-world products online, and to receive advance notice when the complete 7 Pillars of Selling Online course is ready, enter your name and email in the form below.
Here's to your success!
Thomas John
Down to our last few dollars, I didn't know that $360K from Amazon.com was just around the corner...
It almost seems more scary looking back now than when it was happening…
We were really close to running out of money.
This isn't me! Why can't I do this? I know I can earn and provide for my family!
Those types of thoughts would run through my head often.
I started out alright, just like most, I worked hard, went to school, and got a job. There was something in me though that just couldn't stand working for someone else.
I knew I wanted to have my own business. It seemed like I knew it for a long, long time. I thought about, and dreamed about.
It was so frustrating to be working for a big company…to be working hard, and yet getting paid the same as peers that weren't working so hard or putting up quality work.
The same amount on my paycheck month after month really started to wear on me. How long did I have to wait until it was "raise season" anyway? I wanted my income tied more closely to my efforts.
If I work harder and longer, I want it to reflect positively in my paycheck now, not a year or two.
I became an information eating machine. I read lots of books about becoming an entrepreneur and what it would take.
After reading one book, I decided it was time to quite my dull job and go into something that would help me learn faster, and gain the skills I'd need as an entrepreneur.
I quit my job and went into sales. I worked hard, and had some good weeks, but things were starting to implode at the company… The lead source was drying up. People were being hired, starting work in the morning and not coming back after lunch it was getting so bad. Co-workers were quitting every day. I had come in just in time for the downhill slide. It was horrible. We ate our savings away. We had a mortgage and two kids.
I felt like a failure and dreaded going to work each day, yet I knew I was capable of so much more.
I had decided to start a business doing some computer work, but it wasn't doing so hot either. I searched "make money online" in Google and found all sorts of junk. It was so hard to wade through what looked real and legitimate and what was already outdated.
What's the matter with me? I've had successes before. Why am I failing? Things are booming for others, why am I having such a hard time?
Then a light went on.
A light that changed my life.
The gold mine, the secret was Amazon.com.
I started like most with just one product, then I added another, and another, and then discovered I could speed things up with product lines and developing my own products importing some from China and other parts of the world.
The road hasn't always been smooth, but I've learned along the way the best methods and strategies and the pitfalls to avoid.
It's hard to believe how close I came to just giving up those few years ago.
The business I have now selling product online has been able to support me during the recession. In fact, it's been an awesome income even during these tough times.
In the first month, the business brought in a whopping $256 in gross sales. Better than nothing right?
But with good effort, the business grew each month to the point of bringing in $20,000 in a single month:
Of course the week before Christmas, and December in general, is going to be huge for sales, and it's a busy time of year for me, but it's so great to be able to provide for the family.
A few short years later, we had our best month coming in at over $95,000: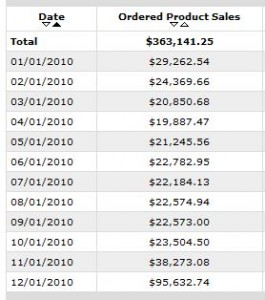 For the year, we grossed over $360,000. It's a far cry from where we were.
The bitter taste of the tough times makes the sweet taste of success all the better!
Since having my business for selling products online, I've taken my wife to Paris, we've gone horseback riding in Yellowstone, and yes, we've taken the kids to Disneyland.
The great part is that I can take vacations when I want to,
I can walk my kids to school.
I don't have to report to a boss every morning.
The flexibility is fantastic.
It's a breath of fresh air (literally, I can spend more time outside)
The freedom and the fulfillment are awesome, and it's something that I want to share.
So what are the 7 Pillars of Selling Online?
As I've developed methods and systems for myself for selling online, I've categorized them into the 7 Pillars.
I thought that "someday" I might teach what I've learned about selling online, but I've neighbors, friends and family start asking about what I do, how I do it, what the secrets are.
I even had one neighbor ask if I was out of work because I was often out taking care of our garden during the middle of the day.
The 7 Pillars of Selling Online Teaches what I do.
The course teaches the principles, the strategies, and the secrets behind what I do. It's been a long time in the making (years of experience have gone into it), so that you can learn from my mistakes and get to where you want to be even faster.
Sign up for the newsletter below to receive advance notice of when enrollment opens for the course.
So enter your First Name and Email to subscribe to the free newsletter and to receive first notice enrollment opens for the 7 Pillars training course:
Free Audio Training:

Turbo-charge your Online Business with 2 Secrets that most Internet Entrepreneurs Miss

For a long time, I knew that I wanted to start a business.

Where was the sense in spending my days working a job that built a business for someone else?

I wanted to build something that would benefit me and my family.

The idea of working an hour in my own business and being paid over and over again for investing that hour was very exciting. I knew it could be done somehow…
The problem was that I didn't have a business, and I was stuck in a job that I didn't enjoy.
Like most, I went to school, got a good job working for a big company…
…but I felt pain in my gut each Sunday night as I realized that Monday morning was just a few hours away, and I'd have to go back to a week's worth of work doing something I didn't like.
Payment for Performance
Sure the job paid okay, but "okay" wasn't good enough.
The same paycheck every two weeks was boring. Where's the excitement? Where's the growth?
In that job, pay raises may or may not come, and when they did, it was once a year.
It bugged that other employees on the team that did sloppy work got paid the same.
That's why having a business was calling my name, I wanted to have the freedom to determine my own paycheck.
Freedom to Set Your Own Schedule
Owning a business allows you to set your own schedule.
No more having to grovel for time off.
Many people in the firm I worked in were so overworked; they didn't have time to take their accrued vacation days. How sad is that?
When I started my business, it felt awesome to go outside during the middle of the day and take care of the garden or lawn. It was almost surreal…
I was used to going to work before the sun came up and coming home after it had set. This was a welcomed change.
Designing the Lifestyle You Want Most
Starting a business can be awesome, but for many, it becomes just another job…a job that they can't step away from for more than a day or two or things come crashing down.
That's why, when I was figuring out what I was going to do, I created a list of things that I wanted in a business that would enable me to travel when I wanted to and have the lifestyle that I wanted.
Having employees, owning a big warehouse, and lashed tight to the business wasn't something that appealed to me.
I wanted to set something up that could run on its own, something that for each hour of work I put in, I could be paid over and over again.
Selling Products Online was the Key to Success
All sorts of opportunities are out there, and I explored a lot of them.
Many opportunities looked like they were outdated even long before they were posted online.
I felt frustrated and wondered if I'd even be able to make something happen, but I had to make it happen.
I had switched jobs and went into sales thinking I'd get some great experience to help me start a business someday. Part bad-timing, and part it just wasn't for me, I soon discovered that I needed something fast.
I finally discovered some little known secrets, pieces of the puzzle when put together provided a lot of promise.
It was the engine I was looking for. I just needed to fill the engine with fuel, and I'd be on my way.
What I discovered was that I could work from my basement (literally) and have a successful business selling physical, real-world products online.
Employees weren't necessary.
Headaches of shipping onesie-twosie orders wouldn't happen.
The time required to run it would depend on how smart I was, not how much a time card said I needed to be at work.
I started out with just baby-steps, but month by month learned the strategies and secrets to making the business something that I could rely on full time.
Early Earnings
Below is a screenshot of my early earnings totals by month when I first started out…
The great thing was that it wasn't something that was just a passing fad or used tricks. It's long-term and sustainable.
My business was something that could be expanded and improved upon month after month.
I could continue to get new products and put them in the pipeline and have success year after year.
Recent Earnings
Below is a screenshot of more recent earnings by month.
Each new product I add is like a fresh start which means the business is sustainable and growable compared to all those opportunities I looked at in the past that were simply outdated.
The business and the market are growing. And that's a good thing.
So how can you apply this in your Internet business or future Internet business?
First, take a listen to the free audio course I've recorded:
Turbo-charge your Online Business with 2 Secrets that most Internet Entrepreneurs Miss
In the audio lesson, you'll learn a couple of the secrets I use to run my business.
Secrets like getting your products in front of over 90 million potential buyers without having to spend money on advertising.
Secrets of scalability that are used by entrepreneurs working at home all the way up to multi-million dollar corporations.
These secrets are just the tip of the iceberg regarding how I manage my business selling real-world, physical products on the Internet and make a full time living doing so.
The business has enabled me to travel to Paris and other fun places while my business operates in the background.
Of course any business has its challenges, and I've made plenty of mistakes along the way, but hopefully, you'll learn from my mistakes when building your business and get to success even faster.
To get Instant Access to the Free Audio Training,
Enter your Name and Email below and I'll send you an email with the link where you can have instant access to the mini-training.