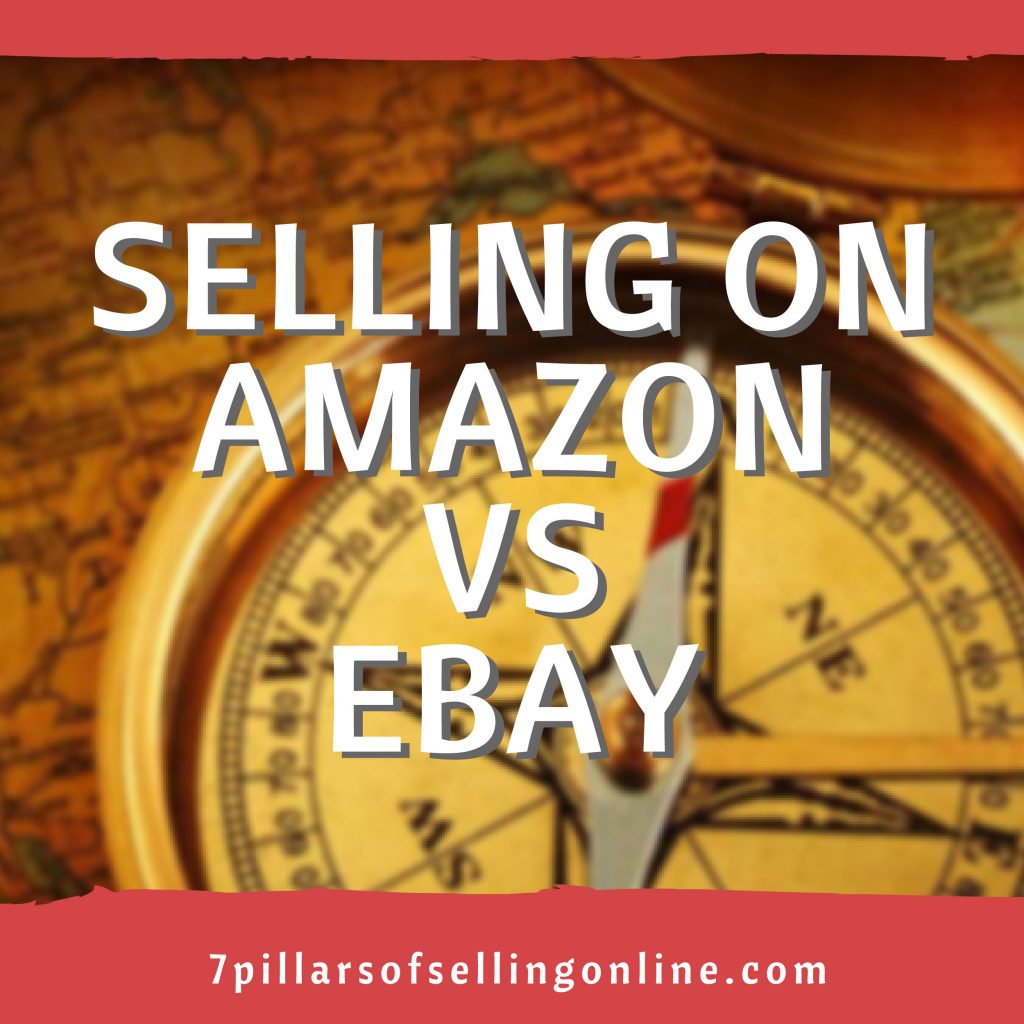 Disclaimer: I make the bulk of my money on one of these two sites, so obviously, I'm going lean towards the one that helps me make my full-time living working from home. If you've read other articles on the site, you'll know right away which marketplace I prefer. 🙂
Selling on Amazon vs Ebay? Why you should care about the difference.
Because one of these can make you a ton more than the other.
Wouldn't it be best to sell in all marketplaces?
If you have limited time, are you sure you want to learn every marketplace system all at once (Amazon, eBay, Walmart, etc.)?
Learning all the ins and outs of the best marketplace can pay big dividends in the future.
Be Strategic to Maximize your Business Success
Start with the #1 Marketplace, and once you've got systems in place, then branch out to the other selling marketplaces to provide even more income. However, one of these online marketplaces creates the lion's share of profits for those who know how to do it right.
But there's not much difference between eBay and Amazon…Right?
Wrong. Amazon and eBay are in two very different leagues when it comes to selling online.
When selling on eBay, you'll be tied up in a lot more busy work then when selling on Amazon.
But that's not the only thing to look at. Customer Service, Fulfillment, Promotions, Ease of Use, and not to put to fine a point on it, making you more money online, all these factors are critical to your success.
We're going to explore the key differences here, and they can mean the difference between success and a lot of frustration.
What Products Should you Sell on Amazon?
Some sellers worry their products won't do well on Amazon–their products are too small, too unique, not expensive enough, etc. etc.
Truth is, that's what can give you an advantage.
As long as you're not selling marketplace restricted items (check each site's terms for the current list of restricted items), you'll have a good shot at selling in any of the marketplaces.
There are a few caveats though. If you have only one unit of something, and there's no ISBN or UPC bar code on it, eBay may be a good place for it.
But if the item does have a UPC or ISBN bar code on it, you'll have a good chance selling it in the marketplace where I make my living.
If your products are homemade goods, you can try selling them on Etsy, but you could also look at getting your own UPC bar codes so you can sell your products in a marketplace with more customers that keep coming back every day to the world's largest selection of products.
Amazon vs eBay – The Fast-Track to Freedom and Fulfillment

The 7 Reasons Why one will Make You Tons More Money than the Other
1. The Power of Trust
Compare a well composed eBay listing and a well composed Amazon.com listing, which do you trust?
Unfortunately, eBay still maintains a garage sale feel in its listings. Design matters a great deal when it comes to trust.
Another element of trust is the seller ratings. Yes, you could find a trusted seller on eBay, but Amazon has created a trusted seller marketplace with their A to Z guarantee system.
Although both Amazon and eBay have a rating system, Amazon's is far easier to see at a glance how many stars/feedback ratings the seller has and where the seller stands.
Sellers with good feedback and sales numbers on Amazon are promoted to "Featured Merchant" status which means that they have shown themselves as trustworthy.
Better trust means more sales.
How many times have you not purchased something from a website because of poor design (in other words, a lack of trust)?
Amazon also protects purchases with an A to Z Guarantee. Buyers don't have to worry about hassles on Amazon.
Winner: Amazon.com for creating a system where customers have better trust for sellers.
2. An Streamlined Purchase Process for the Buyer Makes a Big Difference
Ever thought, "Gee, I'd like my life to be more complicated."
Nope. Most of us are trying to find ways to make things easy–to simplify.
Do you want your customers to become frustrated because it's hard to find your products?
Although eBay is trying to be better about this, when you search for a product on eBay, everybody's listings come up.
Your potential customers will have to sort through page after page of listings for the same item! It's crazy! It's complicated! It's silly!
When you shop on Amazon, it's simple. It's elegant.
Amazon has one single listing for each product.
If there are different sellers for the same item, the item listing is not reproduced over and over again in the search results.
The item appears once. When you click on the item, it's easy to see who the featured merchant is and the new/used options available to you from other sellers.
A frustration free shopping experience means a better buying experience for your potential customers.
Winner: Amazon.com for having only one listing per product.
3. Give Customers Confidence when Buying
Both eBay and Amazon put a lot of information on one page, but when you look at a product for sale on both sites, there are major differences.
Amazon creates a uniform listing and thus a uniform shopping experience. With eBay you never know what colors, fonts, etc. that you'll come across in a listing.
Apart from the Trust factor mentioned earlier, the consistency in design on Amazon creates a different buying experience and elicits different shopping behavior from potential buyers.
It's like a garage sale compared to an upscale store.
Even for the same products, you'll be able to command a higher price in the upscale store. Buyers appreciate the consistency and feel of a uniform shopping experience.
Amazon has also recently enabled Enhanced Branded Pages that let you as a seller customize your listing pages even more.
Amazon.com lets sellers post multiple images of products for free. Those images appear in the same spot on each listing. It's easy, it's simple. It's good for the customer.
Better design means a better price for you, and a better buying experience for the customer.
Winner: Amazon.com for a consistent design that helps customers feel better about buying.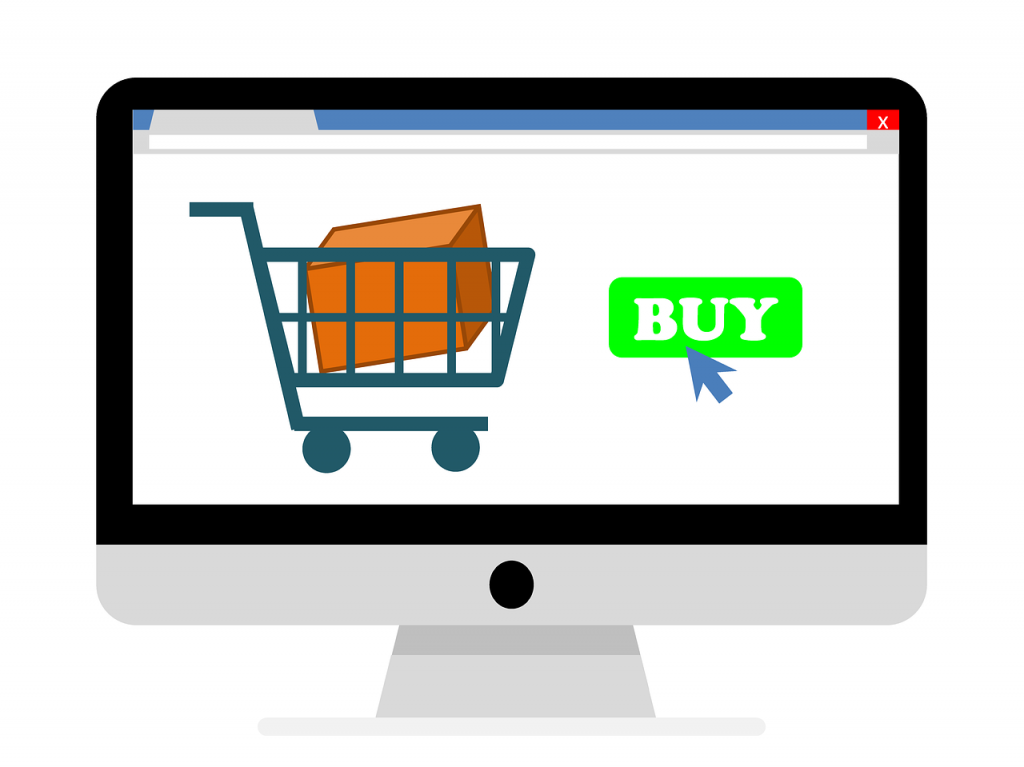 4. A Streamlined Customer Buying Experience
Have you ever bought something from eBay?
It's a mess.
You not only have to wait for the auction to complete (if it's an auction not a fixed listing). But once it does, you have to go to a different website (PayPal) to pay for your order.
***UPDATE: Ebay is encouraging sellers to use bank accounts instead of PayPal. Ebay is moving to be more like Amazon on this.
Could your customers become confused? How do customers contact the seller, through eBay or PayPal? What if they want to cancel an order, make a return, etc.? Where do they go?
Do you want your potential customers getting frustrated when they try to purchase something?
Amazon.com on the other hand has a 1-Click checkout option. Amazon seeks for ways to make things simple.
You click "Buy" on Amazon, and you've bought it. Returns and refunds are also easy to request and process.
Customers can select those options from the orders page or visit the returns center. They can even return products shipped to them as gifts.
Winner: Amazon.com for making it fast and easy to purchase and be done.
5. Promotions that Actually Help Your Products to Sell More
Try to find how to run a sale or promo on a basic run-of-the-mill eBay listing.
It's not that easy, and it used to be a lot harder. eBay is finally starting to play catch-up in this area. Ebay has introduced in-site advertising, but so far, our experience has shown that Amazon's in-site advertising produces much better results.
Customers like to find deals and use coupon codes for super steals. Amazon makes it really easy to create custom coupon codes and promotions.
You can easily create promotions for customers that buy 3, they get 1 free. You can create coupon codes that are applied automatically, or that have to be entered manually. All sorts of options are available.
A customer is more likely to come back and buy from you again if you can offer them a discount or coupon code, and Amazon makes this really easy to do.
Amazon has introduced Lightning Deals, Special Coupons, and Prime Deals to 3rd party sellers (me and you) which lets you set a discount for your product that will run for 6 hours. Lightning Deals are featured in Amazon's special deals sections and can really drive sales if the price and timing are right.
Winner: Amazon.com for giving you the chance to earn repeat business and more business by creating sales, promotions, and coupon codes. But, eBay is starting to close the gap on at least this one.
6. Fast and Reliable Shipping, who you gonna Trust?
Amazon sells and ships its own items as well as allowing 3rd party sellers to sell in the marketplace.
eBay has only 3rd-party sellers. The benefit of having Amazon sell products is that Amazon can offer programs like Amazon Prime.
For a yearly fee, customers get Free, 2-day shipping on items shipped by Amazon. It's pretty cool when a lawn mower gets delivered to your door with free shipping in two days!
What does this mean for you wanting to sell products online?
You can provide that same value on Amazon to your customers and knock out the eBay competition (especially at Christmas time when customers want their orders fast). More on that further below…
Winner: Amazon for making it super easy to receive products fast with free shipping.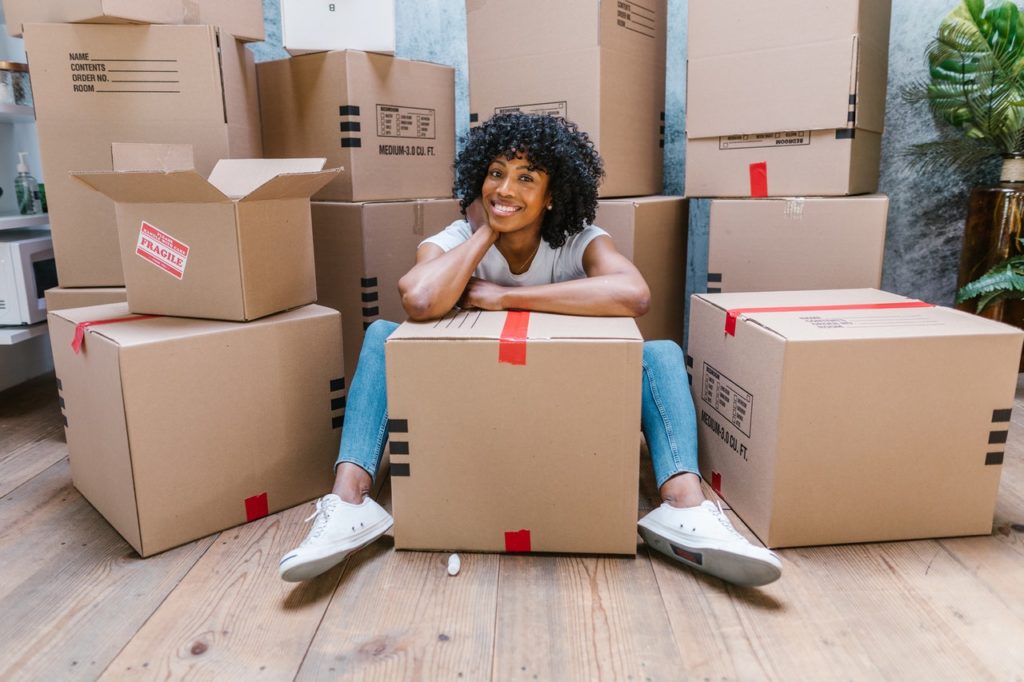 7. Makes Shipping Orders a Snap for You and Your Customers
Remember Amazon Prime mentioned above?
How would you like your products to qualify for free 2-day shipping to millions of potential customers?
But wouldn't offering free, 2-day shipping cut erase your margins/profits?
It might if you have to ship each order that way, but not if you're using the right Amazon's FBA System that ships your orders for you even when you're asleep!
You don't have to go crazy during the Christmas selling season shipping onesie-twosie orders. You don't have to worry about warehousing your products or about going on vacation and missing sales.
Does eBay have this for its sellers? Nope.
Winner: Amazon for making your products more readily available to customers with fast, free shipping.
There is a something to keep in mind there, this refers to items that are new. If you're looking to sell used items, you're going to find a playing field that favors eBay a little more as customers expect used items to be on eBay. You can buy used items on Amazon as well, but usually without the Amazon Prime benefits.
So what do all these points have in common?
These 7 points are better for the customer, and what's better for the customer will be better for you as a seller.
The more all of us can think about ways to make things better for the customer, the better we'll do selling products online. Customers will return again and again to purchase and new customers will feel at ease making a first-time purchase. Learn How to Sell on Amazon to make the most of a internet business that can save you time and ship orders while you sleep.
Do What You Love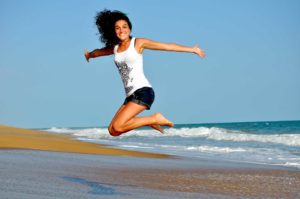 You can take advantage of Fulfillment by Amazon (FBA) to ship out individual customer orders for you. FBA not only automates the process making a better experience for the customer, but it frees up our time to work on new products, or simply spending more time doing the things you love!
It can make all the difference in achieving your goals whether it be additional income or income replacement. You can make it happen.