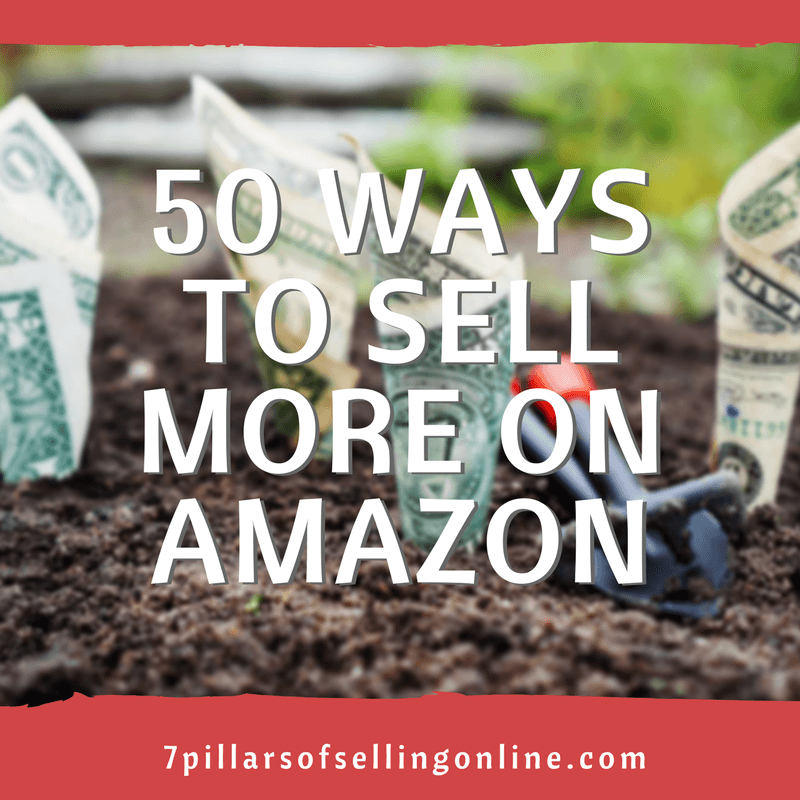 Want better sales on Amazon? Some sellers find their sales dropping, and aren't sure what's happening. There's a lot of factors that go into selling on Amazon, and fortunately, there's a lot of things you can do to help your business earn more selling on Amazon.
Check to see which of these tips below you might not be doing or could give another shot to increase your sales on Amazon.
#1 Use Amazon Promotions
In Amazon's Seller Central, merchants can create promotions. These promotions can automatically apply to customer purchases or you can require a coupon code to be used. The trick here is that you can display on your listing page what your promotion is. For example, "Buy $100 worth of xyz products and get 15% off your order."
You can also create coupon codes that are not displayed on the page that you can share with others to help drive sales. Any jump in sales is going to help your product rank better in Amazon's search results. More below on using these promotions. You can also create promotions that are just for Amazon Prime members.
#2 Create Amazon Lightning Deals
Amazon Lightning Deals lets you create a promotion for your products that Amazon will promote for you. You can see a significant lift using this tool in the right way. There is a fee for using the Amazon Lightning Deals, so you may want to explore some other options if budget is tight, but the key here is that your product will see a lift in sales, and a lift in sales will have a halo effect, lifting your sales (and sales rank) for your item for days, weeks, and maybe even months to come.
#3 Start an Email List
You can use an email list to promote your products. If you have a website, use an email list signup page where visitors can get something free for sighing up. It may be a course, a free pdf, something related to your industry and products.
Now with people joining your list and receiving value from you, you can email exclusive promotions just for your email list. Remember the promotions tool mentioned above? Here's another use for it. Just remember not to use the Amazon Merchant-to-Customer Message system for anything other than order related emails. Here, we're talking about your own list outside of Amazon.
#4 Submit to Coupon Sites
If you've created coupon codes for discounts for your products, share them on coupon code sites like Retailmenot.com. You'll end up driving more traffic and more sales.
#5 Run Great Sales
This is different than a promotion or coupon code. A sale is a limited-time discount on your products and is created within Seller Central on your inventory item's page.
The benefit of a sale is that it's marked at the top of the listing page that the product has been discounted. You can boost your sales by running a sale and see the benefit of increased sales rank on your items.
#6 Use FBA (Fulfillment by Amazon)
This one almost goes without saying. Using Amazon's Fulfillment Service (one of Amazon's best kept secrets) can benefit your business in so many ways. Amazon handles returns and most customer service inquiries. Customers can get their orders in a fast and reliable manner capitalizing on trust that's already there for the ordering process. For more on Fulfillment by Amazon, click here.
#7 Become a Featured Merchant on Amazon
Starting with the basics here, but if you want to sell more on Amazon, you need to become a pro-merchant which will give you the chance to become a featured merchant, and gain the Buy Box (we'll talk about that in a bit). Hint, if you've got a few products and some good history, you'll become featured fast. Amazon's pro-seller plan is $39.99 a month, and you can register for an Amazon professional selling account here. It opens a whole host of tools to you that we'll be discussing.
#8 Get the Buy Box
Getting the "Buy Box" is absolutely key on Amazon.
When a customer clicks "Add to Cart" the merchant that has the "Buy Box" is the one that will get that default sale. If other merchants are selling that same item, the only way they get the sale is if the customer clicks on other buying options.
That's why you want to make sure you are winning the Buy Box. It's a complex algorithm that Amazon uses, but the main components are if you're a featured merchant, the price of your item, if it's fulfilled by Amazon, how much stock you have, and your seller history/feedback.
Competing against other merchants for the Buy Box can often be a race to the bottom (who's willing to sell it for the lowest amount). That's why there's some other things you can do (further below #13) to help with this problem.
#9 Get Free Publicity for your Products
Never underestimate the power of free publicity. Your local news website might be looking for a story. Check out who writes about local or business issues. They may just want to do a story about your business and your products. If there's something unique about your products, or the way you do business, they may be interested in doing a story on you.
Other ways of free publicity are to jump off the high dive during the middle of the Olympics wearing a banner with your business name, but I'd recommend against that one.
#10 Raise Money for a Good Cause
Perhaps there's a local cause you want to champion and you're willing to donate a portion of your profits for a time to the cause. Contact the cause and see if they're interested. That free publicity we talked about earlier, that's where this can come in. You'll be doing something good for others, and it can help your business too.
#11 Bundle your Products
Here's something you can do without too much trouble. If you sell everything as a one pack, try creating a 2, 3, or 4 pack as well. This can increase the number of SKU's you have and thus increase your exposure on Amazon. It can also help because a bundle is going to bring in more money than just selling one at a time.
#12 Add Variations to your Amazon Products
If you've got one product, why not offer the same product but in a different color or size? It's called adding a variation to your product. Variations of the same product are great because they share the same listing page and benefit from the reviews already posted.
#13 Add More SKUs
Simply adding more products (SKUs) to sell can help you sell more. I know this one is self-evident, but increasing the number of products you set can also increase the exposure of your company. Browsing customers could be interested in what else you have to sell and buy more. With the long tail, if you have more products, there's a greater chance of those products selling over time. SKU = Stock Keeping Unit.
#14 Add Related Products
Instead of just adding random products to your line up, consider adding complimentary products. "Customers who bought X also bought Y." You've seen the suggestions on Amazon, and those suggestions should be of your products together. If you sell shampoo, sell conditioner too. You get the idea. Add products to your line up that complement one another and you'll see your sales increase.
#15 Brand your Products (Using Private Label)
Okay, remember how we talked about how important the Buy Box was? If you're competing against other sellers of the exact same product, it's a race to the bottom of the pricing scale. If you have your own branded products, you'll be building a business that lasts.
Creating Private Label Products doesn't have to be hard. Many manufactures are willing to put your logo or brand name on a product that they make. That product then becomes your own and you can control the listing for that page.
#16 Use Enhanced Branded Content, aka A+ Content
Amazon's Enhanced Branded Content for 3rd Party Sellers lets you, once you've created your own brand, to update your listing pages with large photos in the description section of the page. It also allows for limited HTML formatting. This is huge because it lets you tell the story of your product/business much better than the default single paragraph description. Better story = better sales.
#17 Focus on the 20% that Generate 80% of the Sales
Look at your products and see which ones are the best performers. Chances are 20% does 80% of your business. Focus on those products, make sure that you're always in stock, and that you have good stock (inventory levels) of these products.
You never want to be out of those products. Check your Amazon bullet points and make sure they sparkle for those products.
#18 Give Product Samples to Bloggers
Amazon doesn't allow you to give products to reviewers who are going to review on Amazon. It's against the Amazon seller policy. It's something that used to be allowed, but that's changed. So, what can you do? You can send your product to bloggers that light to review products.
More advanced however, is to find bloggers in your industry that don't necessarily review products all the time, but that might be interested in taking a look at your product. Send them a free sample for them to look at and review on their blog and share with their audience. Choose from a variety of bloggers. The "A listers" might be too busy, but the B and C listers might be hungry for new content to write about.
#19 Amazon Coupons
Amazon has Promotions where you can create coupon codes. They have lightning deals where you can put items on sale and maybe have them featured. Then there are Amazon Coupons.
Amazon coupons are awesome because as of this update, the discount shows on the product details snippet when customers are searching for the product. It's a great way to get potential customer interest when they see a list of products in search, and yours is listed with a note telling customers they can save on this item.
#20 Ask for Customer Reviews
Amazon does not allow you to send marketing emails through their messaging system. They also look down on automated systems that send out review requests. However, there is a button Amazon has added recently where you can request (through Seller Central) that Amazon send the customer a request/invitation to write a review for the customer's order.
Great Amazon customer reviews sell products. Amazon has provided an official way to ask for those reviews. Use it, but don't abuse it.
Another way to do it, is to enroll your branded products in the Early Reviewer Program. In this program, Amazon will followup with buyers of your products to leave a review.
#21 Blog about your Products and Business Story
You can send out your products to other bloggers, how about have a blog of your own. Be upfront that you are the manufacturer (if you are), and establish a following. Tell your company and products' story to engage readers. Link to your products to help drive sales.
#22 Get Youtube Reviews
There are a number of Youtubers out there that will review a product sent to them. Many of them have lots of followers. A good youtube review can do wonders for your product. Potential customers searching the web for a product like yours could come across the video review and then buy your product as a result. It's another way to get your product into the search results online.
#23 Sponsor a YouTube Channel/Video
YouTube opportunities are just limited to reviewers. Contact people with the YouTube channel related to your market and see if they would be willing for a product placement review or sponsorship of an episode.
#24 Post to Social Shopping Websites
These websites change often. But do a search for social shopping, and submit your products to these sites to gain more links and exposure to your products.
#25 Build a Website
Building your own website can produce lots of dividends. You're essentially building an asset in and of itself. Even if you don't want to sell on your website with a shopping cart, you can link to your Amazon products.
Lots of sellers use WordPress to sell their Amazon Products. Once set up, you link to your products on Amazon. The benefit is that your website can start appearing in search results, and customers interested in your products will be able to learn more about your products and your company story. If you do decide to self from your own website in the future you'll have it ready to go.
#26 Increase Your Prices
Okay, this one may seem a little crazy. However, raising your prices can do something interesting. Yes, it could slow down your sales, but what they normally attribute higher prices too? Greater quality. Some people are motivated to buy the cheapest least expensive option they can. Others know that the cheapest is nowhere near the best.
They want to buy something that will last, that has value, and that means paying a little bit more. It certainly is possible that with an increasing price your customers will also see an increase in value.
#27 Lower Your Prices
We can't mention the first without mentioning this one. Perhaps what your products due need is to have their prices lowered to be more competitive. It's all about planning that sweet spot, and it's definitely worth a try.
#28 Try a Loss Leader
Sometimes companies will sell a product at a loss or are barely breaking even just to get you inside the door so that you'll like other products. It's a little bit different online, but not that different.
Consider it the price range of all of your products and perhaps you need a product it will get more attention that's priced lower and will sell more often and that attention could help potential buyers looking to your other products and drive sales.
#29 Give Something Away with Each Purchase
The Amazon promotion tool allows you to give away something free when a customer advisory product. This most often can take the form of a digital guy or download that can go along with your product.
However, this can also be a promotional tool if you have a low cost item that you want to giveaway as a bundle or a promotion for a customer buying your product. This can be set up in the promotions section of seller central.
#30 Create a Promotional Discount for Buying 2 or More
We've already talked about promotions, but this one require special attention. In the promotion section that we talked about you can create a promotion that if the customer buys two or more other particular item that they can receive a discount.
This is a fantastic and easy way to drive sales. I customer is already interested in your product and then they see on the listing page advertising if they simply buy a second or more that they can receive a discount. It's almost too easy and one you should be sure to use.
#31 Promote Your Discounts
As crazy as it sounds, don't forget to promote your promotions. Too often sellers will just create a promotion and hope that it works.
Make it prominent on your website that you're running a Holiday sale or special promotion. One of the greatest ways to make a promotion effective is to let customers know that there will be an end to the promotion give the date and the time the promotion will end. Doing so helps the customer know they need to act by a certain time or the deal will be gone.
#32 Create a Launch Day for New Products
Lots of sellers simply create their listings on Amazon when they have a new product and hope the sales will come. Why not build momentum and anticipation for your new products? On your website let potential buyers know that a new product is coming and it will be released on a certain day. Create a special promotion just for that product on that day. Blog about it. Let other bloggers know about it. Send out some samples in advance. Let your email list know about it in advance. Getting your product started with sales right out of the gate can tremendously benefit its future.
#33 Post on Twitter to Sell more on Amazon
So here we go into social media. If you create your own website you want that website to rank well. One of the ways to getting it ranked to rank well is to have links to your website. You can legitimately create those links through social media. Create a Twitter account and then link back to your website. But don't do just that engage with your customers. Engage with your marketplace. Build a presence of the following and it will pay dividends.
#34 Use Promoted Tweets
But how do you get noticed on Twitter if you're just turning out? You can use promoted tweets. It's basically like running a tweet as an ad back and then drive traffic to your site where you showcase your products. Make sure you provide something of value so that the potential viewer or customer as a reason to click on that link to visit your website. Offer them an interesting article about something they didn't know related to the industry your product is from.
#35 Post on Instagram
Similar to twitter post pictures of your product on Instagram, and include a link back to your website in your profile. Chair coupon codes with your followers. Follow people in your industry and comment on their posts. Interact with others that's why it's called social.
#36 Use Instagram Ads
You can create and promote posts on Instagram to help drive traffic to your own website for you showcase your products. This can be helpful if you're just starting out on Instagram.
#37 Post on Pinterest
Pinterest is a great place to showcase your products. You can help drive traffic to your own website. Make sure to post images of your products better link back to your own website. Interest is a great place because Google and the other search engines can see the links from the site that the back to your site which can help your site to rank better in search results.
#38 Use Pinterest Ads
Just like the other social networks you can promote your posts (pins) on Pinterest. Focus on pins that would be of value to potential customers. Again, the idea is to help potential customers visit your website see your products and follow through two links on Amazon of your products.
#39 Create a Business Page on Facebook
Create a business page for your business on Facebook. Sure post about your industry and your products. Share your blog posts. Share things of value the people in your market would be interested in. Many of these social network efforts can't take time but Can pay big dividends in the long run.
#40 Post Videos of your Products on YouTube
YouTube is the second largest search engine. People search there all the time for reviews for insights and for cat videos. YouTube can be a great place for You to showcase your products and your company. You don't have to be formal and corporate let your personality show and that will naturally draw those that could be interested in your products. Have fun with it. Link back to your website in the descriptions of each of your videos.
#41 Take Advantage of Youtube Ads
Compared to the other social networks, YouTube is unique because visitors can keep coming back and revisiting your contact whereas a tweet ones posted consume be buried in all the other tweets. The other great thing about YouTube ads is that then views gained through running to you too bad Count towards the total view count of your videos. Use the ads to draw attention to videos of your products.
#42 Put an Insert into your Product Packaging with a Coupon Code
Have an insert made and put it in the packaging of your product thinking the buyer for their purchase and then offering a coupon code discount for coming back in purchasing something else from your store.
#43 Create a Product Insert Asking for a Review
Along with the insert idea, include an physical insert asking the buyer to leave their thoughts and the review on the product page. Reviews sell products. Amazon doesn't let you to incentivize reviews. But you can include a note inside your product or product packaging asking inviting customers to share their thoughts on the product don't try to influence them one way or another just ask for their honest opinions.
#44 Partner with Someone Big
Sometimes it's time to go big. Reach out to the superstars in your industry reach out to the big players. You might be amazed at how many would be willing to showcase your product. You could also offer it as a promotional tool to give them a number products to give out to their customers.
#45 Review your Keywords in Description, Title, and Keywords Fields
Make sure the text that you were using in your titles will appoint description and keywords fields of your Amazon listing include actual keywords the customers would use in searching for your product. Don't overstuff your listing and especially your title with keywords but make sure that you covered the wide range of words and terms that shoppers might use in searching for a product like yours.
#46 Promote a Big Sales Day
A rising tide lifts all boats. You could try a special discount de day like crazy where all of your products have been discounted again a bump in sales on Amazon will increase your sales rank and the fact can last much longer than your sale sometimes it takes just a little bit to get your product more visible in the search results and once they're the success can perpetuate.
#47 Expand Internationally
Amazon has made it easier than ever to sell internationally (especially to Canada and Mexico). You can enable selling on Canada and Mexico through your seller central account.
One way to sell more is to get your product in front of more people and going internationally is a great way to do this. The help guides in seller central have instructions on how to do this.
#48 Put Video in your Product Listings
Amazon and Ebay let you place video in your product listings. There are a few caveats, you need to be the brand owner on Amazon, but you can still place videos on Ebay, and many Ebay shoppers will find a product on Ebay and then check if it has better shipping options on Amazon. There's debate on if Amazon is better than Ebay, but it is possible that eBay can help drive your Amazon sales. EBay allows you to more easily put video in your Ebay listings.
A shopper on eBay could see and watch the video many shoppers look around the Internet for the best deal and the fastest shipping, and often it's on Amazon. Thus and therefore, an eBay listing with video, can help drive sales to your Amazon listing.
#49 Find the Right Keywords that Sell
We talked earlier about updating your listing to include keywords in your bullet points, product description, and in the keywords field of the product setup, but how do you know you're using the right keywords?
Seller Labs has a tool called Scope and it's the best keyword tool for Amazon Sellers. Use it to discover not only what keywords will make the biggest difference in your products' success, but what products might be promising to your business.
#50 Make Some Noise. Be Remarkable.
Sometimes you got a make a little noise to get a little attention.
Don't be afraid to do something unique whether it be creating a unique promotional video that highlight something different about your product or telling the story of your business.
Same old same old is boring find what's unique about your products and find a unique way to share that benefit.
Check out our recommended tool for success on Amazon below: