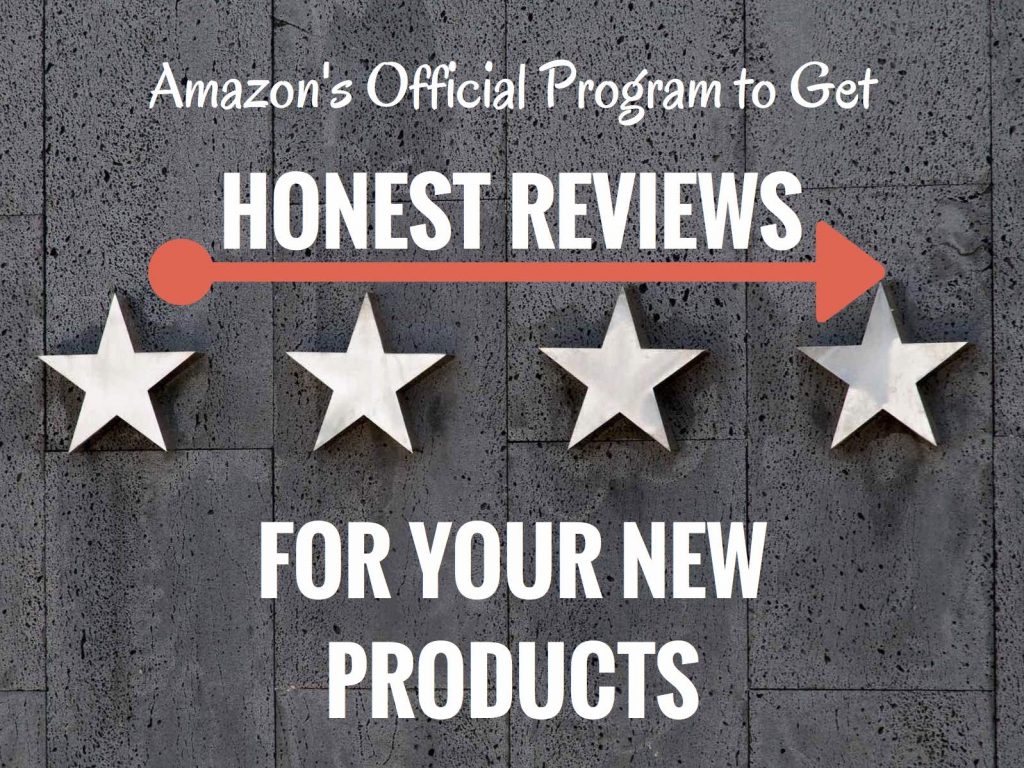 Getting Natural Reviews for your New Products on Amazon Just got a Little Easier
***Update: Amazon is making it easier for 3rd party sellers to get their products into the Amazon Vine Program, and so the Early Review Program is no longer available.***
The program is not Amazon Vine for 3rd Party sellers, but Amazon has not turned a deaf ear to sellers especially now that sellers are not permitted to give samples for review.
So What is the Amazon Early Reviewer Program?
Let's talk about what it is not:
It's not Amazon Vine. Amazon Vine is a program where Amazon Venders can send their products for selection from a large group of Amazon reviewers who can choose to receive the product for free (but are taxed on the value) and then right a review. However, Amazon Vine is opening up to 3rd-Party Sellers who are Brand Owners.
It's not a program to solicit reviews from random shoppers on Amazon to entice them to buy your products.
Now what the Early Reviewer Program is:
The program will ask customers who have already purchased your product to right a review (Amazon will frequently do this, anyway, but the next point is the difference).
Amazon will offer a small incentive ($1 to $3 in Amazon Credit/Gift Card) to write a review of your product that they already had purchased.
As a seller, you can only do this for products you have registered as part of your brand registry
The program will cap on a product once 5 reviews are reached or one year has passed.
It will cost you as a seller $60 to enroll a product (product variations are enrolled together with the parent).
A badge will be placed next to the reviewer's review stating that it was part of "Early Reviewer Rewards" program.
Make the Most of the Program to Get Honest Amazon Customer Reviews
The great thing about the program is that the reviews will come from customers that actually purchased the product because they wanted to and not because there was an upfront incentive.
Only once the product has been purchased will Amazon followup with an email inviting a review.
Sellers are not allowed to advertise that they are part of this program. Amazon wants this to be as natural as possible and knows that getting those first five reviews can be tough.
Do you Have access to the Early Reviewer Program?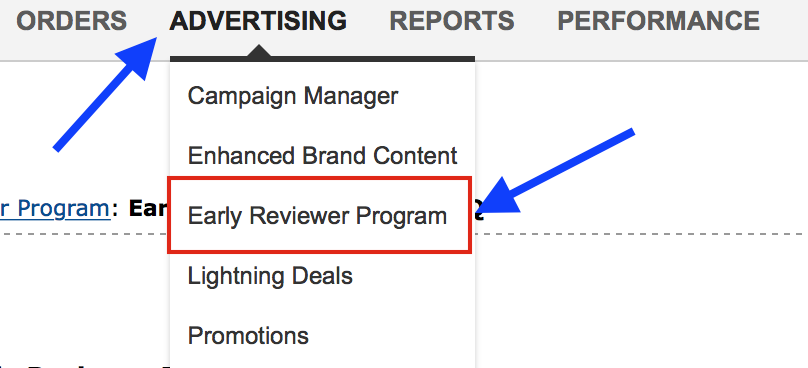 Enter Seller Central, and check the Advertising tab, then Early Reviewer Program.
How to make the most of the program:
This program is for products with less than 5 reviews and a price above $15. More details in the FAQ here.
Select from products that meet those criteria, and that have already had a sale or two. Doing so will give you the chance to test out the program and hopefully get reviews fast. If you like what you see, you can enroll your other products.
If you're just launching products, you can enroll them too, and you won't be charged until the first review posts.
If you want to add all your products that meet the criteria, go for it!
However, you might want to consider a few things. There seems to be little risk with the program, but no program, especially no new program is without risks.
Consider this when Adding a Product to Amazon's Review Program
Customer Perception could be Affected
Instead of letting reviews build naturally this program will certainly aid getting reviews in the next best possible way, but those first reviews will have the badge that they were part of the program.
Other shoppers might not take the time to think about how well-thought-out the program really is and just think that these were paid reviews. Shoppers could avoid purchasing, or be more incentivized to leave negative reviews with a bad experience if they think the reviews have stacked in favor of the seller.
The Program may need Time to be Effective
In our experience, reviews don't come in just days after launching. It still takes time for those reviews to roll in (a couple to a few weeks), but it does work, just be patient.
The Upside of Entering the Program Soon
There is an upside to moving quickly though, customers could be very pleasantly surprised to get the email with the request to write a review. If lots of sellers jump on the bandwagon, the program could become oversaturated, and Amazon could scale back
Also, Amazon indicates that some criteria has to be met to write the reviews. They don't include all of it, but it seems apparent that they'll ask those they think are real accounts (have made purchases and written reviews previously).
The Upside in General
Amazon announced a while back that sellers are not allowed to send out free products for review.
Many sellers were doing this to help get reviews for a new product after launch. The Early Reviewer Program is a great way to stay within the guidelines and get real reviews.
The program really seems to indicate that Amazon heard seller complaints about not being able to get reviews for new products. At a cost of $60, for a potential 5 reviews, might seem steep but think about the cost of sending out free samples.
With this program, you have the chance to get reviews from customers who were interested in the product for the product's sake and not because they were getting a discount. Remember, Amazon customers don't enroll in this program, it's not a club.
A customer that purchased your product may or may not get an email after-the-fact inviting them to write a review for a modest Amazon credit.